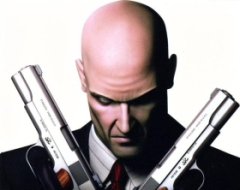 Since late February, the Hitman Forum has been tracking a possible alternate reality game related to the unannounced (but very much in the works) Hitman 5.
The forumgoers have cataloged a series of images that all bear conspicuous barcodes ending in "47." The initial image, found in a catalog at the Sundance Film Festival, included a "Hitman Series" box of donuts. These images lead to other images and IO Interactive's Community Manager has been there every step of the way to (unofficially) provide support in the search.
Eidos Interactive executives and Agent 47's voice actor have both inadvertantly confirmed that a fifth Hitman game (and the first since 2006's Hitman: Blood Money) is in development at IO Interactive. The Hitman Forum users haven't cracked the code yet, but I'm sure this means an announcement will sneak up on us very soon.