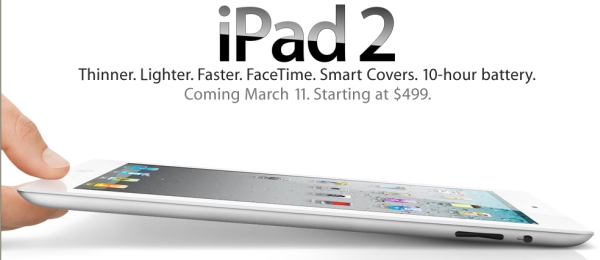 As expected, the second generation iPad was announced today at a press conference in San Franciso spearheaded by CEO Steve Jobs. Priced at $499 and available March 11, the tablet, which is officially named the iPad 2, improves on the original iPad thanks to its "thinner, lighter, faster" design.
The "faster" claim is bolstered by the iPad 2's new dual-core A5 chip architecture (which makes it perfect for gaming). According to Apple, this makes the device nine times faster than the previous iPad and, along with its dual camera setup, makes FaceTime video calling possible. The cameras will also be able to record HD video. Even with these advanced specs, the iPad 2 is 33% thinner and and nearly 15% lighter.
In addition to beefing up the iPad's inards, the new Smart Cover makes the device more mobile than ever. Snapping into place with magnets, the Smart Cover protects and can be folded to use as a stand.
You can also head on over to Apple.com to see a video of the iPad 2 in action.