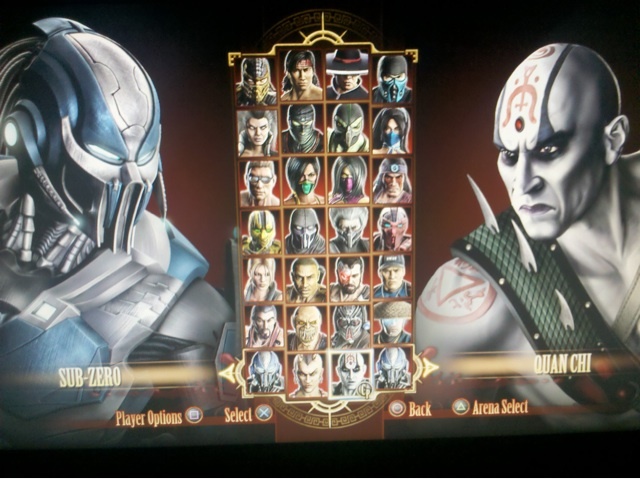 A NeoGAF user has posted a screenshot of the character selection screen from Mortal Kombat.
While most of the kombatants have already been announced by NetherRealm Studios, there are a few new names to add to the game's roster. The most surprising addition is the only original character in the game, Robo Sub-Zero (he occupies the Hidden/DLC slot, so he won't be immediately selectable). He is joined by the previously unannounced Sheeva and Human Smoke (who is sporting Gary Oldman's awesome hairdo from Bram Stoker's Dracula). If this selection screen is real, it means that all 25 characters from the first three Mortal Kombat games (and Quan-Chi) will be available in the MK reboot. Lending further credence to its believability is the fact that Ed Boon has always said that this rehistory of Mortal Kombat might include a new cyborg character.
Hit the jump for a full rundown of every character in Mortal Kombat, which releases for the PS3 and Xbox 360 on April 19.
Mortal Kombat Roster
Row 1: Scorpion, Liu Kang, Kung Lao, Sub-Zero
Row 2: Sindel, Ermac, Reptile, Kitana
Row 3: Johnny Cage, Jade, Mileena, Nightwolf
Row 4: Cyrax, Noob Saibot, Smoke, Sektor
Row 5: Sonya, Jax, Kano, Stryker
Row 6: Shang Tsung, Baraka, Kabal, Raiden
Row 7: Robo Sub-Zero (Hidden Slot 1), Sheeva, Quan Chi, Robo Sub-Zero (Hidden Slot 2)