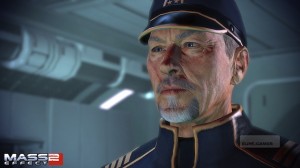 Commander Shepard just recently made an arrival on the PS3, but now the Normandy has one last voyage to embark on, completing this fantastic second installment of Shepard's conquests. BioWare recently announced "Arrival," the third and final DLC pack for Mass Effect 2.
"Arrival" presents Shepard with information regarding an imminent Reaper invasion, an event which has been in the cards since Mass Effect's start. Returning to the series is fan-favorite Admiral Hackett, who made a prominent appearance in the first Mass Effect game, and is voiced by sci-fi actor Lance Henriksen.
As previously noted, "Arrival" will do just that on March 29th, and will be available for both the PS3 and Xbox 360 for $7.00/560 Microsoft Points. God, I can't wait for Mass Effect 3.