Mass Effect universe expanding with more comics later this year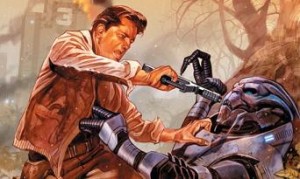 If you enjoyed last year's run of Dark Horse's adaptation on Bioware's Mass Effect series, or their work to recap the original game on the PS3 version of Mass Effect 2 (which we thought worked), you're getting more crossover goodness in 2011. On a panel last Friday about Video Game Comics, Dark Horse representative Jeremy Atkins revealed that a new series is indeed in the works, due out later this year. They also confirmed that a comic series for Star Wars: The Old Republic is in the works, and writers from Bioware will be the ones penning the story.
The increasingly popular journey from video games to comics has been a rough one in the last few years, but from what I've gathered the Mass Effect crossover was a nice exception to the disappointing rule. Hopefully we won't be let down and the new comics will pleasantly supplement the universe, along with Mass Effect 3 when it hits PC, Xbox 360, and PlayStation 3 this holiday season.
It's Dangerous To Go Alone! Read This.
A Commenter Is You!