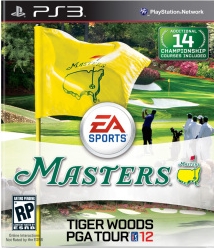 Tiger Woods will hook up with "Morning Drive" host Gary Williams this Thursday, March 17, for a two-hole showdown in Tiger Woods PGA Tour 12: The Masters. Williams and Woods will square off on holes 12 and 13 at Augusta National, better known as "Amen Corner," thanks to the wonders of online play (Woods will be in New York during the interview).
While the winner won't be donning a Green Jacket, this is not Tiger's first time being challenged at his own game. In 2009, he battled Jimmy Fallon in two holes of Tiger Woods PGA Tour 10… and Fallon stomped him. Of course, Fallon is practically a professional gamer, so maybe he'll have better luck against Williams.
"Morning Drive" airs live on The Golf Channel every weekday from 7:00 to 9:00 AM. Tiger Woods PGA Tour 12: The Masters will be released for the PS3, Wii and Xbox 360 on March 29.