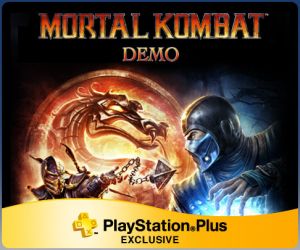 Sony's been trying really hard to get you to jump in on their subscription-based service PlayStation Plus, and today they deliver another enticing offer in that effort. Mortal Kombat will arrive on the PlayStation Store next Tuesday, March 8 for Plus subscribers only. Regular PSN users will get a chance to download it a week later. The game will be compatible with Automatic Download, so make sure you turn the feature on so your PS3 can achieve sentience and download it on its own.
The demo features Sub-Zero, Johnny Cage, Mileena, and Sub-Zero as they battle it out on two ultra-vintage stages: The Pit and The Living Forest. You can get in on these fights with both single player and one-on-one Versus modes. And, of course, Fatalities and the new X-Ray Mode are included. Finally, for all you affluent technophiles, yes, the demo will support 3D.
The PlayStation Blog invites players to experience the joy of over-gory Fatalities, which it calls "once-controversial." I'm not so sure about that. Seeing Kung Lao pull his victims legs-first towards his spinning razor hat to be dissected like some horrible biology experiment is an image I simply can't get out of my head. Maybe listening to the iconic theatrical theme song of the series will help me stay sane until Mortal Kombat releases for PlayStation 3 and Xbox 360 on April 19. I hope.
WB Games has said that the Mortal Kombat demo will be released on the Xbox Live Marketplace at a later date.