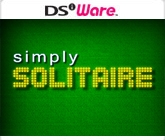 This week's Nintendo Download is a bit thin as the consolemaker has no WiiWare or Virtual Console titles to add to the Wii Shop Channel.
However, this week will see the release of new demo versions of two previously available games: Dart Rage, a dart-throwing simulator; and Learning with the PooYoos: Episode 2, a "poetic brain-trainer" for the 3 to 5 set.
This week's DSiWare releases include Simply Solitaire and Faceez: Monsters!. You can find out more about both of these titles after the break.
Simply Solitaire
Publisher: Engine Software
Players: 1
ESRB Rating: E (Everyone)
Price: 200 Nintendo DSi Points
Simply Solitaire gives you exactly what you want: pure Solitaire on your Nintendo DSi system. Solitaire (also called Patience) is a single-player card game involving a layout of cards with a goal of sorting them. Solitaire games involve dealing cards from a shuffled deck into a prescribed arrangement on a tabletop. The player attempts to reorder the deck by suit and rank through a series of moves, transferring cards from one place to another. The simple game design and easy, intuitive controls make it a game that the whole family can enjoy. The game has 50 puzzles in each level to guarantee hours of fun game play.
Faceez: Monsters!
Publisher: Neko Entertainment
Players: 1
ESRB Rating: E (Everyone) – Mild Blood, Comic Mischief, Alcohol Reference
Price: 200 Nintendo DSi Points
Faceez is back, and this time it will scare your friends. Faceez: Monsters! features frightening new disguises and accessories, including the living dead, werewolves, vampires and zombies. Take pictures of your friends' faces, turn them into abominable monsters and place them in your own settings. Expect lots of laughter and fun as you share your monstrous creations.