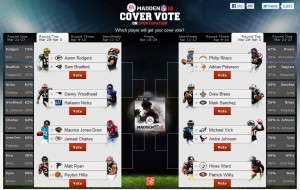 The first round of the Madden NFL 12 Cover Vote has ended with few surprises. The higher ranked seed won in every matchup except for #7 Ray Rice (who lost to #10 Peyton Hillis) and #8 Julius Peppers (who lost to #9 Adrian Peterson).
Voting for the second round has begun today at ESPN.com/maddenvote and with it comes a few very interesting matchups:
Aaron Rodgers (#1) vs Sam Bradford (#8)
Danny Woodhead (#4) vs Hakeem Nicks (#5)
Maurice Jones-Drew (#3) vs Jamaal Charles (#6)
Matt Ryan (#2) vs Peyton Hillis (#10)
Phillip Rivers (#1) vs Adrian Peterson (#9)
Drew Brees (#4) vs Mark Sanchez (#5)
Michael Vick (#3) vs Andre Johnson (#6)
Hines Ward (#2) vs Patrick Willis (#10)
Voting for round two continues through April 3rd.