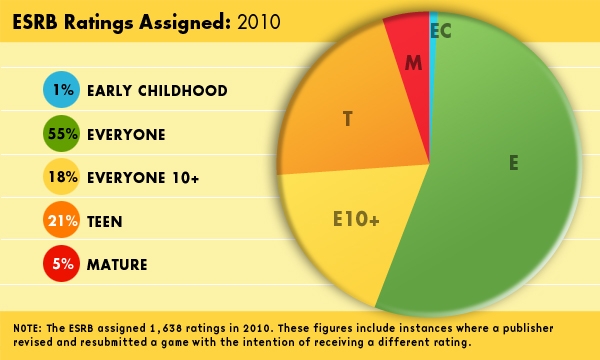 The ESRB's annual Rating Category Breakdown has revealed that the Entertainment Software Rating Board handed out 1,638 certificates in 2010. As expceted, the general audience ratings of Everyone (55%) and Everyone 10+ (18%) accounted for the vast majority of games. Teen-rated titles accounted for 21% while the Mature rating was awarded to only 5% of all 2010 games.
Even though Mature-rated games only accounted for a tiny percentage of new releases, they made up the bulk of game sales. In a Gamasutra report of 2010's bestselling games per platform, 18 of the 50 games listed were rated Mature. As you may have guessed, most of these games were concentrated on the PS3 (six out of ten) and Xbox 360 (a whopping eight out of ten). And of course, Call of Duty: Black Ops just became the bestselling game of all-time.
So while Mature-rated games only take up a small amount of shelf space at the store, they are much more popular (on a per-title basis) than their Everyone-rated little brothers.