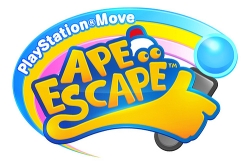 Sony has announced they'll be bringing the crazy antics of the Ape Escape crew to the PS3 for the first time this Summer in PlayStation Move: Ape Escape.
PlayStation Move: Ape Escape will be available exclusively on the PlayStation Network and it'll transform your Move controller into a variety of gadgets to trap those invading monkeys. These gadgets will be controlled like a first person rail shooter across 15 new levels.
There'll also be a "MonkeyPedia" to keep track of the captured simians and a series of minigames with names like Tag Rally, Slingsnipe! and Sprayzer Defense Force.
You can check out the first screenshots at the PlayStation.Blog.