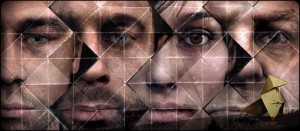 According to the amazing information sleuth superannuation, Quantic Dream is up to something. The creators of Heavy Rain have registered seven new domain names, all with the words Play Series and Five (written as Fiv5): playseries.fr, playseries.net, playseries.de, fiv5.net, fiv5.co.uk, fiv5.de, and fiv5.fr.
Fiv5 has been trademarked in Europe by Sony Computer Entertainment Europe as well. To top it all off, Benoit Godde, recently hired by Quantic Dream, has both Five and Infraworld listed on his resume on LinkedIn (Infraworld was a title the company was working on back in 2006 that was canceled due to disinterest by publishers).
While I'm excited to hear Quantic Dream is working on another game – I love Heavy Rain – it saddens me to find out this way. I do respect (and fear) superannuation's amazing sleuthing skills, but at the same time, I really prefer to hear about games when they're more fleshed out – and when the company is ready to tell us about them. Nothing gets me more excited for a game than a sexy trailer or some steamy screenshots, and while I do love information, it's almost anti-climactic to read about it on LinkedIn. Talk about a boring way to find out about a game. Either way, hopefully David Cage releases some more information now that this has surfaced.