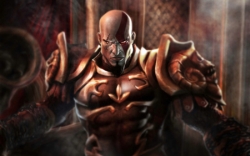 The Internet is alight with rumors today that Sony is secretly working on God of War IV. Of course, how secret can it be when the Sony Santa Monica's Director of Product Development, John Hight, told GamerVision during an interview last year that the studio always planned to create more God of War games.
But the source of today's rumor is Chanik "Craig" Hwang's LinkedIn profile. According to Hwang's LinkedIn resume, during his employment at Motion Logic Studios, he claims to have worked on a "Game Cinematic Test for God of War 4." The job listing has since been deleted from his resume. A similar claim was made on his personal website, which is also now offline.
Whether or not Hwang was working on God of War IV is pretty irrelevant. Sony Santa Monica has publicly admitted they're working on a new God of War game and knowing it'll contain cinematics is like knowing that water is wet. So let's leave the poor guy alone.
That said, maybe we can hold out hope for an E3 reveal of God of War IV. And Sony is launching a new handheld soon, a portable God of War for the NGP would seem like a no-brainer.
[Source: System Link]