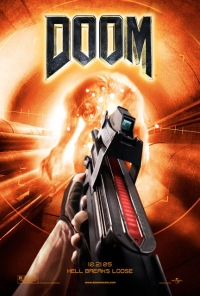 It took 12 years to bring Doom to the big screen the first time around and, if the rumors are to be believed, Universal is planning to try again.
According to the rumor report from What's Playing, Universal has begun the search for a script and ultimately plans to reboot the franchise, ignoring the events of the 2005 movie that starred The Rock and Karl Urban. Good thing too, as that movie had absolutely nothing to do with the Doom game series. But here's hoping the new movie includes another badass first person sequence.
And as you may have guessed, the Doom reboot will be shot in 3D… which would make the first person sequence even more badass.
Hmm, maybe it's time for me to dust off that Doom script I've had lying around since I was 14. It's probably as good as anything Universal will find.
Id Software has been working on a fourth entry in the game franchise for a few years now. But it's unlikely we'll learn more about Doom 4 until after Rage is released this September.