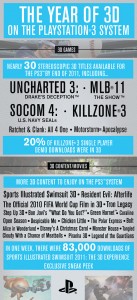 Click the graphic to the left. Seriously, do it. There, you'll find a list of some of the bigger experiences coming in 3D to the PlayStation 3 throughout the year, as well as interesting statistics. Did you know 20% of the downloads for the Killzone 3 single player demo were in 3D? Either there's more 3DTV's out there than we thought or only technophiles are into Killzone.
The other, and my personal favorite stat, was how in one week alone, over 83,000 technopervs downloaded Sports Illustrated Swimsuit 2011: The 3-D Experience Exclusive Sneak Peek. That's a lot of sticky DualShocks.
Sony is billing 2011 as The Year of 3D on the PlayStation 3 System. That's a far cry from The Year of the PS3, but I suppose it'll do.