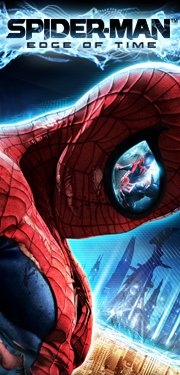 Scheduled to make its worldwide debut at WonderCon this Saturday, Activision has announced that Spider-Man: Edge of Time will be available this Fall.
Once again developed by Beenox, Edge of Time builds on the multi-world concept seen in the wallcrawler's last game, Spider-Man: Shattered Dimensions. This time out, Spider-Man 2099 (Miguel O'Hara) must reach across time to prevent the untimely death of The Amazing Spider-Man (Peter Parker).
"At Beenox, we are constantly listening to the fans and looking for new and creative ways to innovate the gameplay experience for them," said Dee Brown, Studio Head, Beenox. "We want to create a totally distinct experience in Spider-Man: Edge of Time by working with Peter David [co-creator of the Spider-Man 2099 comic book series] on the story and creating this urgent, high-stakes experience where time is working against you and the fate of Spider-Man hangs in the balance."
Like Shattered Dimensions, players will be able to control both Spider-Men as they attempt to fix the frabic of time. Gameplay details are currently harder to come by than a One More Day fan, but Activision is touting a "cause-and-effect" mechanic that is said to cause changes to one timeline as players make choices in the other.
Which platforms the game will be available for weren't revealed, but Shattered Dimensions was released on the DS, PS3, Wii and Xbox 360, so I'd expect a similar release schedule for Spider-Man: Edge of Time.