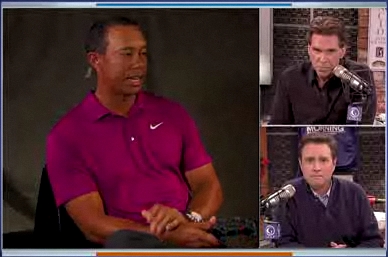 Tiger Woods appeared on The Golf Channel's "Morning Drive" this morning to talk a little bit about Tiger Woods PGA Tour 12: The Masters and also to challenge co-host Gary Williams to a single hole showdown. After being embarassed by Jimmy Fallon in a similar showdown on Tiger Woods PGA Tour 10, golf's greatest player was able to redeem himself by shooting a par-4 to Williams' quadruple bogey on the 10th hole at (a virtual) Augusta National.
Playing online over the PlayStation Network (though not using the new PlayStation Move functionality), Tiger even managed to talk some trash after Williams repeatedly missed the hole. After Williams' fourth putt, he commented, "I have been practicing for literally three days on this game."
Woods' response was a playful "I can see."
You can view the whole interview/showdown at The Golf Channel's website. Tiger Woods PGA Tour 12: The Masters will be released for the PS3, Wii and Xbox 360 on March 29.