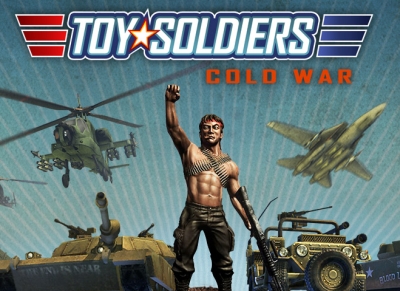 Toy Soldiers went marching home on the Xbox Live Arcade last March. Today, Signal Studios announced that the game will be all it can be on the PC this Summer as well as revealed an Xbox Live Arcade sequel, Toy Soldiers: Cold War.
As you may have guessed from the logo, Toy Soldiers: Cold War has been inspired by The Real American Hero, G.I. Joe. While the fight won't involve laser rifles and a centuries old cult of snake worshipping mutants, the game will definitely harken back to Saturday morning fun for a lot of Xbox 360 owners:
The Cold War ignites when '80s era action toys come alive and wage war! Toy Soldiers: Cold War delivers hours of intense combat combined with addictive action strategy gameplay. Superpowers collide in this playful homage to '80s action toys and films. Command the powerful Cold War arsenals of the USA or USSR armies! Control base turrets, modern combat vehicles, fighter jets, attack helicopters, and commando action figures. Whether lighting up the Toy Box alone or jumping into the fray with your friends, battle in campaign, co-op, or competitive modes. Fight for the high score in the addictive mini-games, and while you're at it, don't forget to BLOW EVERYTHING UP!
Toy Soldiers: Cold War doen't have a release date yet, but Signal plans to bring a playable build of the game to this weekend's PAX East.
If you can't make it down to the show, hit the jump for a look at the first trailer and a Toy Soldiers: Cold War feature list.
Toy Soldiers: Cold War Features
Fight the good fight! The Wall did not come down! Control the entire might of the Stars and Stripes to stop the invading forces of the Evil Empire! On land or in the air – drive, fly, and battle your way to victory!
Highlights: Command the USA and USSR armies with brand new modern weapons and vehicles. Multiple Attack Barrages, Co-op or Single Player Campaign, improved Multiplayer Action, Co-op Survival Modes including Classic, Lockdown, and Hardcore, and fast-paced competitive Mini-Games!
New Co-op Mode: Join forces with your friends and play on the couch or over Xbox Live in Campaign or Survival modes.
Modern Drivable Units: Hulking battle tanks, fierce attack helicopters, explosive fighter jets, ATVs and more!
Attack Barrages: Expanded barrage rewards, including First Person Special Forces soldiers, AC-130 gun ships, B-52 bombers, Artillery strikes and Nuke missiles.
Intensely Addictive Mini-Games! Take a break from the main battle and compete with friends online to rack up the high score in playful mini-games. Hidden challenges in each level encourage replayability and reward player skill.
New Secondary Turret Features: Grenade launchers, cluster bombs, scopes, missile locks, tactical vision, Overcharge Mode and more!
Additional Unit Trees: Take down the enemy with WD-40 flame throwers, fireworks, and bug spray!
Improved: Replayability is improved with Checkpoint Rewind; new and sophisticated driving physics; revamped dynamic destructible environments; new enemy wave behaviors and AI.