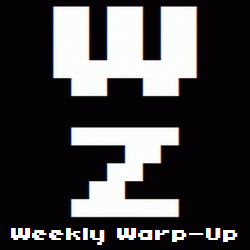 No, that's not a typo. Welcome to the Weekly Warp-Up, your weekly wrap-up of the biggest and the best articles posted at Warp Zoned this week…
Get Warp Zoned!
So, did you wait up all night to snag a 3DS? Have your eyes exploded out of the back of your skull yet (either from the awesomeness or the eye strain)? But if your eyes are still intact, we've got a great Weekly Warp-Up for you.
This week, we got a chance to talk to Erik Wolpaw of Valve about the company's very hotly anticipated Portal 2. The interview included a discussion about the game's new characters, the single-player and co-op campaign as well as a few other spoilers that you might not want to read.
Hit the jump for the rest of the Weekly Warp-Up.
The Week in Reviews…
The Week in New Games…
Amazing Paperboy Delivers…
It's a Secret to Everybody…
And Finally…
Reggie Fils-Aime was on Late Night With Jimmy Fallon showing off the 3DS. Apparently, the little handheld thinks Fallon has a female face, so be careful who you point the system's camera at today!