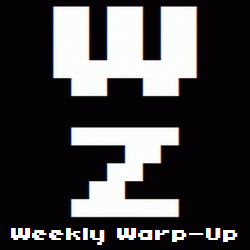 No, that's not a typo. Welcome to the Weekly Warp-Up, your weekly wrap-up of the biggest and the best articles posted at Warp Zoned this week…
Get Warp Zoned!
We're still sifting through all the awesomeness we saw at the second annual PAX East show, but in a special edition of our podcast, Mike Gutierrez, Nicole Kline, and Ryan Littlefield recorded from PAX East to talk about the games they saw, the games they played, their favorite games, and – well – GAMES!!
We got a chance to sit down with Deus Ex: Human Revolution's Game Director Jean-Francois Dugas for an in-depth interview. He talked about the development process, the influences on the team and Warren Specter's thoughts on the game. We visited Bethesda and took their booth to the Brink with a hands-on preview. We also invaded the Capcom booth and played a lot of Okamiden, Super Street Fighter IV and Resident Evil: The Mercenaries 3D. Finally, we played Bastion Supergiant Games' action RPG and talked to studio head Greg Kasavin.
Back home from PAX East, we examined the winners and losers during the 2010-2011 Video Game Awards Season. It was a good year to be Rockstar and you'll be surprised to see who came out on top of the Alan Wake/Heavy Rain showdown.
Hit the jump for the rest of the Weekly Warp-Up.
The Week in New Games…
Amazing Paperboy Delivers…
Crytek and IGN are having a bit of a feud. IGN says Crysis 2 looks worse on the PS3 than on the Xbox 360. Crystek says they look the same. A third party test then showed the Xbox 360 version as the better looking one. Just play the game yourself when it releases next week.
Mass Effect 2 was chosen as the "Game of the Year" at the 2011 BAFTAs.
WB Games shows off the first gameplay trailer for Batman: Arkham City. Also, The Riddler will be making an appearance in Gotham this time around.
Sega has announced release dates for the Captain America and Thor games. Both movie tie-ins will be coming to the 3DS as well.
The last Mass Effect 2 DLC pack, "Arrival", will be released on March 29.
The ESRB says only 5% of 2010 games were rated Mature, but they account for 36% of all bestselling titles.
Homefront sells a ton of copies. Wolverines!
Prepare to battle inside more oddly shaped alien doors with Prey 2 in 2012.
Rooster Teeth has announced a ninth season of Red vs Blue.
It's a Secret to Everybody…
Peter Molyneux might be working on Fable IV.
Hitman 5 might be revealed at this year's E3 if the ARG surrounding it is real.
And Finally…
How would Super Mario Bros. look as an indie movie? The SXSW festival has the answer.