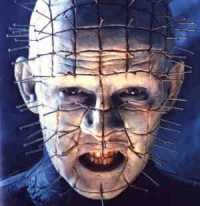 Famous film brothers Bob and Harvey Weinstein have announced that their company, the creatively named The Weinstein Company, has started a video game division. The equally creatively named TWC Games will tap into the back catalog of The Weinstein Company and Dimension Films to develop and publish video games for mobile, social, and console platforms. Among the Weinstein/Dimension films that could get the game treatment are Scream, Hellraiser, Halloween and Children of the Corn.
Wouldn't it be awesome if TWC Games teamed up with Freddy and Jason rightsholder Warner Bros. to create the ultimate slasher movie fighting game of Ghostface vs Pinhead vs Michael Myers vs "He Who Walks Behind the Rows" vs Freddy Kruegger vs Jason Voorhees? Considering the fact that Warner Bros. also owns Mortal Kombat maker NetherRealm Studios, it's practically fate.
TWC Games will be working with Beefy Media, who has worked with Capcom in the past on a ton of projects, to bring their video game dreams to fruition. The consulting company will work with TWC Games to "foster relationships with publishers and create high quality games."
Bob Weinstein, The Weinstein Company's co-chairman, is thrilled about the announcement: "The video game marketplace is changing at such a rapid rate. With all of the digital platforms, there are so many opportunities to broaden our audience with compelling, high quality, cost-efficient, video game entertainment."
Seriously, someone needs to convince Bob and Harvey to make that monster crossover happen.