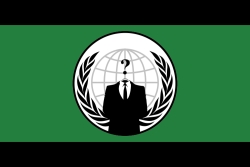 The "hacktivism" group Anonymous has announced that they've suspended their campaign of online warfare against Sony due to the effect their efforts were having on innocent PS3 players. The denial of service attacks perpetrated by Anonymous caused outages on the PlayStation Network and blocked access to Sony-owned websites. These attacks were called off one day after a member of Anonymous referred to gamers as "collateral damage" in their war with Sony.
Anonymous' statement reads, in part, as follows:
Anonymous is not attacking the PSN at this time. Sony's official position is that the PSN is undergoing maintenance. We realize that targeting the PSN is not a good idea. We have therefore temporarily suspended our action, until a method is found that will not severely impact Sony customers.

Anonymous is on your side, standing up for your rights. We are not aiming to attack customers of Sony. This attack is aimed solely at Sony, and we will try our best to not affect the gamers, as this would defeat the purpose of our actions. If we did inconvenience users, please know that this was not our goal.
On our side or not, this latest round of statements doesn't look like it'll make gamers feel all warm and fuzzy towards Anonymous anytime soon.