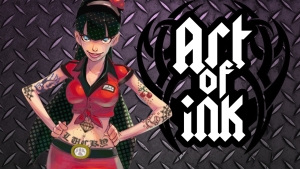 It's Monday and Nintendo has added another three games to the DSiWare Shop and the Wii Shop Channel.
DSi owners will get a crack at three titles new including Art of Ink, a tattoo art simulator; Slingo Quest, the classic slots and bingo mashup; and Escape Trick: The Secret of Rock City Prison, a prison break adventure game. The lone WiiWare game available this week is Play with Birds, a bird-based minigame collection.
More information on all of these games is available after the break.
Nintendo DSiWare
Art of Ink
Publisher: Sabarasa
Players: 1
ESRB Rating: E10+ (Everyone 10 and Older) – Animated Blood, Suggestive Themes
Price: 800 Nintendo DSi Points
Submerge yourself in the colorful world of tattoo art. Working in one of the most prestigious studios in town, you can turn your stylus into a tattoo machine and work with precision on your clients to give them a piece of your art. But be careful – it's not just the art you have to deal with. Satisfying your customer takes more than just skill with your inks. You must get to know the crazy cast of characters that comes to your shop and give each client the perfect design. Keep your clients happy and make a name for yourself to eventually open your own shop and customize it to your liking. Other tattoo artists will take note of your success and will challenge you to prove your skills. Defeating them will give you an insight into their techniques and help you become the next tattoo master.
Slingo Quest
Publisher: MumboJumbo
Players: 1
ESRB Rating: E (Everyone)
Price: 800 Nintendo DSi Points
Slingo Quest combines two classics – slots and bingo – in the ultimate puzzle game. Spin the traditional five-reel slot machine, then match the numbers on your cards (across, down or diagonally) and hit a Slingo. Create as many Slingos as you can in 20 spins with the help of fun power-ups. Fun game modes include Multi-Card Slingo, Seven by Seven Slingo and Pirate's Fortune Slingo. Collect cool power-ups, including Slingo Vision, Devil Protection and Multipliers. Play through 50 fun levels of Slingo, collecting Slingo Stars and Stamps for big bonuses. Are you ready for the next Slingo challenge?
Escape Trick: The Secret of Rock City Prison
Publisher: INTENSE CO., Ltd.
Players: 1
ESRB Rating: E10+ (Everyone 10 and Older) – Mild Language, Mild Violence, Tobacco Reference
Price: 500 Nintendo DSi Points
The Rock City Federal Prison is known as a giant coffin, locking up death row inmates and lifers with no parole. Roy is locked up in cell 218 on a 10-year term. He knows he was framed. A false accusation, mysterious cash left in the prison cell, a breakout plot by prisoners, a warden who is nice only to Roy, the mysterious death of the old man who died in a hole six months ago – is this a conspiracy? Now, the unprecedented jailbreak begins. Escape Trick is a "breakout adventure game" in which players use the stylus to search, use and combine various items in the cell and attempt to escape. Not only the items, but also the letters and symbols in the room can be significant hints for a breakout. In addition to the quest, unique characters get involved with Roy in the adventure part of the game. Roy's secrets and the mystery of the prison are revealed as players progress.
WiiWare
Play with Birds
Publisher: Games Farm
Players: 1
ESRB Rating: E (Everyone) – Comic Mischief
Price: 500 Wii Points
Play with Birds is an original cartoon bird game for players of all ages. Fly through the city and play dozens of bird minigames, including Birdman, Catch Thief and Bird Race. Become famous and find a bird to build a nest with. Play with Birds is focused on the lifelong adventures of a small bird in a city, from hatching to finding a partner to building a nest and establishing a family.