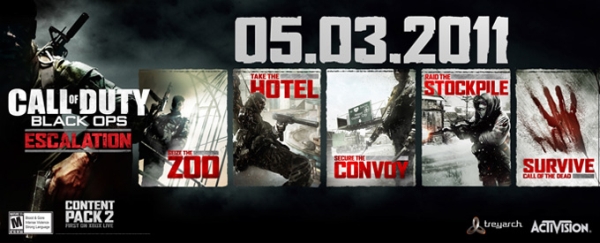 Activision has announced that the second map pack for Call of Duty: Black Ops, Escalation, will be available to download on May 3. As with all other CoD DLC, the Escalation pack will exclusively be available on the Xbox Live Marketplace before eventually being added to the PlayStation Store and PC download sites.
The pack will include four new multiplayer maps, along with something Activision is referring to as Call of the Dead, "a Zombies experience like none before it."
"In crafting the Escalation multiplayer maps – Zoo, Convoy, Hotel and Stockpile – the team developed them to be distinct experiences in their own right, giving players the variety they crave in both setting and gameplay," said Treyarch Studio Head, Mark Lamia. "And I don't want to spoil any surprises for Zombies fans, but Call of the Dead takes it to a whole new level."
To celebrate the upcoming release of Escalation , Treyarch will host a Double XP weekend beginning Friday, May 6th.