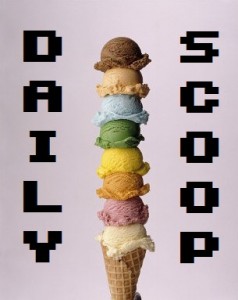 It's finally here! Today marks the release of Mortal Kombat, Portal 2, and SOCOM 4: US Navy SEALs. Gamers everywhere are calling in sick, going home sick, and pulling sick moves to start in on these games. Some even braved midnight lines to pick up their copies early. Are you one of the fanatics? Tell us about your experiences in the comments!
Today is also a ridiculous day for deals. It's another all video games Amazon Gold Box Event day, with the main course served up as Blizzard's Starcraft II: The Wings of Liberty. Pick it up today for $39.99 down from $59.99. It promises to be "Fast-paced, hard-hitting, tightly balanced competitive real-time strategy gameplay that recaptures and improves on the original game." Damn! Upcoming deals are:
6 AM PDT: Enter into the premier online role-playing experience (my guess is Rift!) WRONG! World of Warcraft Battle Chest for $17.99!
8 AM PDT: Don't forget treats for your Mabari War Hound (hopefully this one's Dragon Age II!) RIGHT! for just $39.95!
10 AM PDT: Pick up this Sony PS3 exclusive collectors edition (perhaps a little Killzone 3?) CORRECT! $59.99!
12 PM PDT: Hey man, nice Skillshot (Bulletstorm, anyone?) ding ding ding! $39.95!
2 PM PDT: After thirteen days of fates intertwined, the battle begins (Final Fantasy XIII for sure) Yup! $19.99!
4 PM PDT: Embark on epic quests and build your Kingdom (my completely wrong guess is White Knight Chronicles) Nope! The Sims Medieval for $29.99.
6 PM PDT: Unravel the mystery surrounding the origin of the KINGDOM HEARTS (wow, not even trying there, Birth by Sleep, amirite?) Winner at $19.99!
8 PM PDT: Get ready to take to the field (MLB '11 or Major League Baseball 2K11?)
But wait…there's more after the jump, including two awesome Portal 2-themed t-shirts!
Kmart is having a gaming deal in their weekly advertisement – spend $40 and get a $15 Gaming Coupon, or spend $120 and get a $60 Gaming Coupon. These coupons are good for – you guessed it – future game purchases. So if you're serious about getting all of the games coming out today, you could theoretically buy two and get one free if you go to Kmart! And Amazon is having a deal on their 3DS games – buy two of these for $50.
To wrap this up, we again have two t-shirts, both in honor of the release of Portal 2. First up is today's shirt.w00t, which is called The Cheese is a Liederkranz: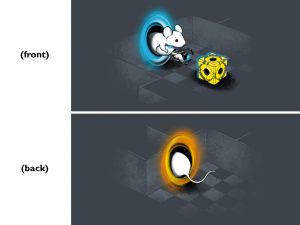 And, of course, no day of Portal would be complete without a reference to cake. Today's Tee Fury is aptly named Lie to Me: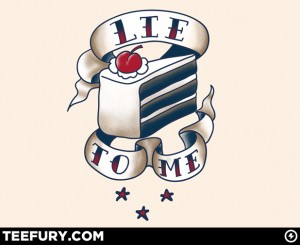 Weeeee Portal 2!