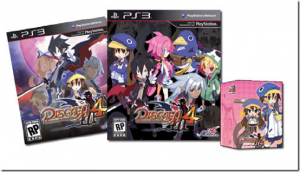 NIS America is looking to get everyone pumped for the latest entry in their Strategy RPG series, Disgaea 4, by announcing the special edition options fans will be able to indulge in when the game hits stores.
In addition to the regular Blu-Ray, players will be able to get the Premium Edition and the Super Premium Edition. The former entails the game, a Fuka figure, the soundtrack, and an artbook. If you opt for the more super version, you get all that plus nine, you read that right, nine exclusive figures that NIS considers must haves for any hardcore Disgaea fan. You can check out six of them here, but the rest have yet to be revealed.
No word on pricing has been released, but I'd strongly recommend anyone looking to grab these to pre-order, which the site says starts July 2011, as niche titles like Disgaea sometimes have limited production runs. We'll have more details on pricing as the game draws closer to its September 2011 release date for PlayStation 3.