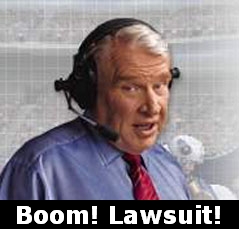 Ready your favorite frivolous lawsuit jokes, because Hagens Berman Sobol Shapiro and The Paynter Law Firm have filed a joint class-action lawsuit against Electronic Arts claiming the publisher has an illegal monopoly on NFL, NCAA and Arena Football games.
According to a statement from the plaintiffs in the case of Pecover vs Electronic Arts, EA signed exclusive licenses with the National Football League (NFL), National Football League Players' Association (NFLPA), National Collegiate Athletics Association (NCAA), and Arena Football League (AFL), thereby "[foreclosing] competition in an alleged football video game market" and "overcharging" for the games relating to these licenses.
When you put it that way, the lawsuit is really an awesome display of idiocy and misunderstanding of the video game market. First of all, whether or not you think EA Sports' games are overpriced, they carry an industry standard $60 pricetag. So the "overcharging" complaint is just stupid. Secondly, the NFL approached EA with the proposal for an exclusivity deal. EA didn't strongarm the license out of anybody, it was freely sold to them.
And Anybody that's visited a game store in the last 30 years will know that these kinds of deals are fairly standard in the industry. For example, Activision holds the license to make games based on Spider-Man while Sega holds a similar license to make games based on Captain America. Overturning EA's NFL exclusivity contract would basically render all of these licensing agreements void.
If the plaintiffs somehow win the day, anyone who purchased a Madden NFL, NCAA Football, or Arena Football game after January 1, 2005 will be considered a part of the class and will share in the judgment.
More information about the lawsuit can be found at EASportsLitigation.com.