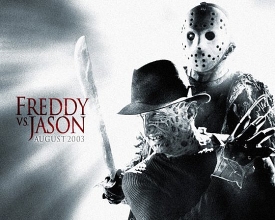 The Mortal Kombat reboot has been available for one day, and rumors of secret characters have already arisen. Those rumors state that NetherRealm Studios will add horror icons Freddy Krueger and Jason Voorhees to Mortal Kombat in a future DLC package. But as awesome as that would be, it's just not true.
The basis for this rumor appears to be a misreading of Ed Boon's recent tweets. The Mortal Kombat creator has taken to Twitter over the last few days offering congratulations and kind words to the Mortal Kombat team for a job well done on the latest game in the series. It looks like it was this message that sparked the Freddy vs Jason vs Mortal Kombat rumors:
You know who animated Smoke's X-ray move? That would be Senior Animator Freddy Palma. Maybe we should put Freddy in the game as DLC?
Boon is clearly referring to Freddy Palma and not Freddy Krueger. Overeager fans filled in the rest. But the idea of Freddy and Jason in Outworld isn't so crazy. In addition to publishing Mortal Kombat, Warner Bros. owns the rights to both Krueger and Jason. So legally, there's no barrier to this happening if Warner Bros. wanted it to happen.
Attention Warner Bros.: As a longtime fan of Mortal Kombat, the Friday the 13th films and (some of) the Nightmare on Elm Street films, I would very much like to see this happen.