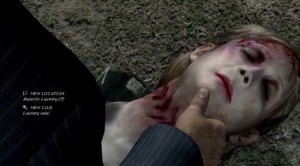 We all knew L.A. Noire was going to be gritty, but I didn't realize just how gritty Rockstar was going to get. Cole Phelps, the detective searching for a serial killer, is going to have a lot to deal with as he goes up through the ranks at the police station. According to the ESRB rating information, this is what you have to look forward to:
Realistic shootouts, which are "highlighted by gunfire, cries of pain, and blood spirts that stain injured characters and the surrounding environments"
Violent cutscenes, including one with "a character being beaten with a crowbar (off screen)—large spurts of blood are depicted in the foreground"
Some crime scenes in which you investigate "badly beaten or mutilated corpses" and you have the ability to "examine victims' bodies close-up, surveying various bruises and bloody cuts for evidence—a few female corpses are depicted fully nude with fleeting images of pubic hair"
Investigations involving sexual assaults, in which "details are often conveyed in clinical terms through dialogue or on-screen text (e.g., 'He's some kind of sex fiend,' 'Woman's briefs torn at seams, forcibly removed,' and 'Head trauma . . . external bruising to genitals.')"
And, perhaps the strangest of the lot: "In one cutscene, there is an implication that a character is engaged in a sexual relationship with a teenager (e.g., 'You take love where you can find it as you get older, Jack'/That has nothing to do with love . . .')"
Damn. This is going to make Heavy Rain look like Kirby's Epic Yarn. Oh, there are also scenes with drugs, and, um, "Language such as 'f**k,' 'sh*t,' 'c*nt,' 'n**ger,' and 'sp*c' can be heard in the dialogue." If your stomach is strong enough for you to listen to the Warp Zoned podcast, then you should be safe.
L.A. Noire hits stores on May 17th for the PlayStation 3 and Xbox 360. Get your sleuthing skills ready.