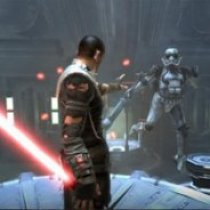 LucasArts and Epic Games have announced a long-term contract licensing LucasArts to utilize Unreal Engine 3, across all their studios and for multiple titles. This seems kind of late in the game, especially considering the Ronin engine for The Force Unleashed games looks pretty solid on its own. But I guess it could be a great solution for multiplatform games, especially going into the future.
Mark Rein, VP of Epic Games said, "LucasArts is now primed to capitalize on Unreal Engine 3's ability to scale across platforms, from mobile, through PC and console all the way up to the next generation of games."
So anybody want to take a guess what these new multiplatform titles will be? Star Wars: Battlefront III, anyone?