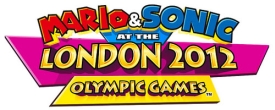 When the first two games in a series sell nearly 20 million copies worldwide, a third is almost inevitable. And when said game involves Mario and Sonic, you can probably forget about the "almost." A leaked logo for Mario & Sonic at the London 2012 Olympic Games appeared last week, and today, Sega and Nintendo made it official.
In development at Sega for the 3DS and Wii, the acronym-tastic MASATL2012OG will feature over 50 Olympic events including new sports such as soccer and equestrian competitions.
"These games bring together two of the most beloved characters in the history of the video game industry in Mario and Sonic. As veterans of both video games and Olympic games, they will arrive in London as a formidable team to provide fun, competitive sporting activities that friends and family members can enjoy together," said Nintendo of America President Reggie Fils-Aime.
A release date wasn't revealed, but Nintendo and Sega promised they'll announce one later this year.