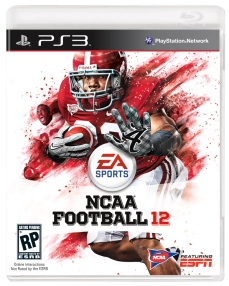 With all the hoopla over the Madden NFL 12 Cover Vote, it's understandable if you had no idea that EA Sports was holding a second vote to determine the cover athlete for NCAA Football 12 as well. Rather than a massive 32-player tournament and a partnership with ESPN, the NCAA Football 12 cover was determined by a simple poll on the game's Facebook page.
Four players were in the running: Auburn University defensive lineman Nick Fairley, University of Alabama running back Mark Ingram, University of Oklahoma running back DeMarco Murray, and University of Washington quarterback Jake Locker. After 140,000 votes were cast, 2009 Heisman Trophy winner Mark Ingram was selected to be the game's coverboy.
According to developer EA Tiburon, the game he'll be endorsing is the most authentic college football experience yet (of course, they say that every year):
NCAA Football 12 takes the journey of the college athlete to the next level of depth and authenticity. Experience the pride and pageantry of gameday Saturday like never before as players go from high school superstar to top college player to head coach in the Road to Glory and Dynasty modes. With an enhanced in-game presentation, new traditions, and an all-new collision system, players make an impact by leading their team to the National Championship in NCAA Football 12.
NCAA Football 12 will be released for the PS3 and Xbox 360 on July 12.