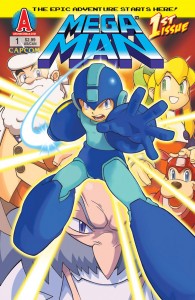 Believe it or not, the folks over at Archie Comics know how to create an interesting and compelling character backstory when they want to. After having written comics about Sonic the Hedgehog for the last two decades, it shows. Just ask any avid Sonic comic book reader. Archie Comics finally expands on that success; it seems that Mega Man is the next candidate in line for his own full series.
The first issue will be available on May 11 and, for a limited time, when readers subscribe to receive Mega Man for its first year of print, Archie Comics will include a pair of Mega Man posters signed by veteran artist Patrick "Spaz" Spaziante. Spaz was responsible for doing the cover art for the majority of the Sonic the Hedgehog comics.
Call it a coincidence, but between this and the release of Mega Man X on the Wii's Virtual Console, this is shaping up to be a mega week already! Also, don't forget to keep checking the dev blog at Capcom for more on Mega Man Legends 3!