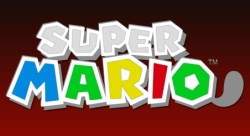 The 3DS' lineup is slowly starting to fill out. Ocarina of Time 3D has been given a release date. Star Fox 64 3D has a date in Japan, with an American one sure to follow. And now, Mario creator Shigeru Miyamoto has revealed a little about the (currently untitled) Super Mario Bros. 3DS.
The famed developer told Edge: "It's a combination of Super Mario Galaxy and [Super Mario 64]. It won't convey the message if I talk to you today, but if you play it at E3 that will give you more understanding of what I'm talking about."
Learning that the next 3D Mario game will play like the previous 3D Mario games isn't too surprising. Nor is finding out that the raccoon tail in the game's logo refers to the return of the Super Leaf from Super Mario Bros. 3: "The tail you mentioned on the logo – it's what you think it is. You probably know what's going to happen using that character."
Miyamoto finished the interview by revealing that Super Mario Bros. 3DS will be brand new ("completely original" he says) and that it's coming this year.
But I guess we'll have to wait until E3 to learn more.