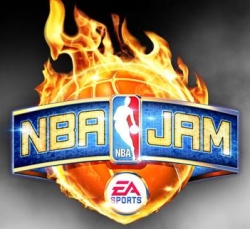 NBA Jam began its life on the PS3 and Xbox 360 as a downloadable bonus for EA's new basketball sim, NBA Elite 11. After Elite crashed and burned before it was even released, EA went ahead and brought gave the now expanded NBA Jam a PS3/Xbox 360 retail release. But it looks like the download plan is back on for the sequel, NBA Jam: On Fire Edition.
The On Fire Edition will be added to the PlayStation Network and Xbox Live Arcade this October (presumably with a pricetag that's less than $50). According to NBA Jam's producer, Trey Smith, the game will include a ton of updates, many of them driven by fan feedback:
Real AI: Featuring the ground-breaking AI system used in the Fight Night franchise that learns your tendencies and throws them back in your face.
Jam Arena: Play solo, or team up with friends and take on the world in a new, dynamic online competition.
Road Trip: A cooperative online campaign where you can team up with friends and compete in a series of white-knuckle challenges against the current superstars and timeless legends from each of the 30 NBA Teams.
Tag Mode and Team Fire Return!: Swap players "on the fly" and ignite your entire team by performing consecutive cooperative moves!
More NBA Jam Hotness: Online roster updates, more NBA superstars, legendary NBA players, over-the-top animations, Jam Challenges, secret teams and unlockable characters than ever before!
I'm thrilled that Tag Mode is back, that was my prime annoyance with last year's NBA Jam.