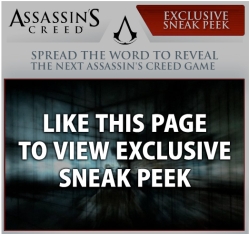 Do you love the Assassin's Creed series? If so, then Ubisoft wants you to visit the game's Facebook page and help spread the word about the fourth game in the series. Sharing the news on Twitter, Facebook and through email will increase a counter on the page. After the counter reaches 100%, Ubisoft plans to post an "exclusive sneak peek" about the currently unnamed game (it's at 19% as of 2 PM, Saturday).
If you'd prefer not to wait, the Internet sleuths at NeoGAF (via Wired Game|Life) have dug through the Flash file and discovered the game's title: Assassin's Creed: Revelations. They've also uncovered the name "Altair" in Arabic script, so we may be returning to The Crusades after two adventures in Italy.
No other details about the game have been announced, but Ubisoft confirmed that a new Assassin's Creed game would be released sometime in 2011.