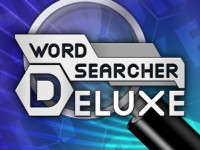 Did the Easter Bunny hippity hop his way to your house yesterday? It may be a day later, but Reggie Fils-Aime has donned his bunny ears and added three new games to the DSiWare Shop and one game to the WiiWare shop.
Hit the jump to learn more about Airport Mania: First Flight, Inchworm Animation, Ubongo and Word Searcher Deluxe.
Nintendo DSiWare
Airport Mania: First Flight
Publisher: Lemon Games
Players: 1
ESRB Rating: E (Everyone)
Price: 200 Nintendo DSi Points
Pack your bags for a trip through the skies in Airport Mania. Travel through eight amusing airports while you land a variety of planes, purchase upgrades and avoid delays. Stay on your toes, as some planes carry precious cargo and will need to land in a hurry, while others might need a trip to the repair shop. With good planning, you're sure to make it to the gate on time. With unique challenges and whimsical characters that will put a smile on your face, this is one flight you don't want to miss.
Inchworm Animation
Publisher: Flat Black Films
Players: 1
ESRB Rating: E (Everyone)
Price: 500 Nintendo DSi Points
Inchworm Animation is a full-featured paint and animation system for the Nintendo DSi system. Five years in the making, Inchworm Animation lets you create mind-blowing digital paintings and animations in the palm of your hand. Use the Nintendo DSi Camera application to record video, stop-motion animation and time-lapse photography. Paint with transparency and smooth anti-aliased brushes. Create images up to 9,999-by-9,999 pixels. An easy-to-use pattern editor lets you make cool repeating patterns. Other tools include onion skin, six-level zoom, cut/paste/rotate, undo and shape primitives. Inchworm Animation's sophisticated layer system allows you to create structured animated scenes. Each layer can have its own independent frame loop. You can even draw on your animation as it plays. Comprehensive tutorials will show you the ropes. Export your finished masterpieces to an SD card (sold separately) as Flash or BMP image sequences.
Ubongo
Publisher: Korner Entertainment
Players: 1-2
ESRB Rating: E (Everyone) – Mild Language
Price: 500 Nintendo DSi Points
Ubongo's mechanics are very simple. Just solve as many puzzles as you can and get gems of the same color. The player who has more gems when time runs out will be the winner. Game modes include History Mode, Quick Game, Time Attack and Multiplayer Mode. The original board game is a blockbuster in many countries.
WiiWare
Word Searcher Deluxe
Publisher: Digital Leisure Inc.
Players: 1-4
ESRB Rating: E (Everyone)
Price: 500 Wii Points
You'll need a sharp eye and a quick mind to complete 100 themed word search puzzles. Word Searcher Deluxe contains fun words from multiple categories, including palindromes, pirates and painting. With a huge assortment of subjects to choose from, there are puzzles for everyone to enjoy. Test your vocabulary, memory and problem-solving skills with these challenging puzzles. Keep track of – and try to beat – your own play-through times again and again as words are scrambled every time you play.