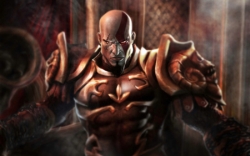 Sony Santa Monica Studio has long said that God of War III would not be the end for Kratos. After making an appearance in the recently released Mortal Kombat, a PSM3 report (via CVG) makes the claim that the Ghost of Sparta will return in God of War IV, which they claim is on track for a September 2012 release:
PSM3 has heard from another source that God of War 4 is coming, and will hit in September 2012. Our source works closely with the God of War universe, and let slip he'd be working on a related project at the same time.
Hopefully we'll find out more at E3.