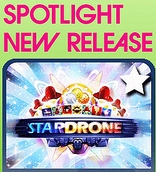 It's Tuesday and Sony has added two new games to the PlayStation Store along with a huge batch of PlayStation Plus content and other discounts.
This week's featured release is StarDrone, a "high-speed action thriller with a mix of arcade action, pinball, breakout, physics and collect-the-objects — and it supports PlayStation Move." Whew. The game should win awards just for the awesome description. Also available this week is Red Faction: Battlegrounds, a vehicular combat spin-off of the popular Red Faction series.
PlayStation Plus users will get a free download of one of the greatest games of all time, Sonic the Hedgehog 2. And lovers of discounts can get the excellent Lara Croft and the Guardian of Light for $7.49.
More information on this week's releases can be found after the jump and more details on all the new add-ons added to the PlayStation Store can be found at the PlayStation.Blog.
StarDrone ($7.99)
The PSN-exclusive StarDrone is a high-speed action thriller with a mix of arcade action, pinball, breakout, physics and collect-the-objects — and it supports PlayStation Move. Cause your attackers to crash with rapid speed while collecting gems and power-up enhancements. Explore the level to find key power-ups and earn more points that will ultimately let you compete against the world on the StarDrone leaderboard.
ESRB Rated E (File size: 88 MB)
Red Faction: Battlegrounds ($9.99)
The signature destructive gameplay from Red Faction: Guerilla comes to the downloadable arcade with Red Faction: Battlegrounds! Jump into your favorite tank or mech using your Gauss Cannons, Rocket Launchers and Singularity Bombs to destroy the competition, and environment along with it. Battle your way through treacherous Martian deserts, terraformed enclaves and more in a variety of different multiplayer modes and single player challenges. (ESRB Rated E10+)