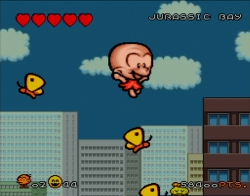 It's Monday morning and Nintendo has updated the Wii Shop Channel and the DSiWare Store with new games for all.
The biggest game in this week's batch (or at least, the one with the biggest head) is Super Bonk. The Super NES classic was Bonk's first (and in America, the only) foray onto the system.
If headbutting platformers aren't your thing, the WiiWare service will see the addition of Planet Fish, a puzzle game set in an aquarium.
The DSiWare Shop will receive three new games this week: A Fairy Tale, a puzzle game where fairies have to save a magical kingdom; Absolute Baseball, a baseball management sim; and Anonymous Notes Chapter 1: From The Abyss, an episodic RPG with an "infinitely extending dungeon."
More information on all of these games can be found after the break.
Virtual Console
Super Bonk
Original Platform: Super NES
Publisher: Hudson Entertainment
Players: 1
ESRB Rating: E (Everyone)
Price: 800 Wii Points
Dive headlong into the action in the first installment of the Bonk series on the Super NES. This time, Bonk has been caught in King Drool's trap and hurled into darkness. To find his way back to prehistoric times, he must embark on an adventure through streets, caves and eventually outer space. Control Bonk as you progress through the stages, but watch out for enemies blocking your path. Eat meat to transform Bonk and perform even more powerful attacks. Many challenges lie in Bonk's path. In addition to his spin and climb moves, you can use items such as candy, which changes Bonk's size, to overcome these obstacles.
WiiWare
Planet Fish
Publisher: Ludia
Players: 1
ESRB Rating: E (Everyone)
Price: 500 Wii Points
Ready, aim… fire suction bubbles from your underwater craft to trap fish to display in your personal aquarium. Catch and collect exotic fish in colorful deep-sea environments such as the Gulf of Mexico, the Ryukyu Islands and the spectacular Great Barrier Reef. Try to avoid obstacles and dangerous species lurking in the depths. Grow your aquatic collection with beautiful marine life from around the world. Navigate through 30 unique levels of play, each with its own challenges and obstacles. Watch out for jagged surfaces, dangerous jellyfish and paralyzing algae. Win bonus collectible fish as you advance in the game. Unlock animated Trophies with each region that you successfully complete.
Nintendo DSiWare
Anonymous Notes Chapter 1: From The Abyss
Publisher: Sonic Powered Co.
Players: 1
ESRB Rating: E10+ (Everyone 10 and Older) – Mild Fantasy Violence, Mild Suggestive Themes
Price: 200 Nintendo DSi Points
Discover an exhilarating RPG set inside an infinitely extending dungeon. Sweep away the monsters wriggling in many places and defeat the strong boss monster lurking in the deepest part of the dungeon. Even after the boss monster is defeated, the dungeon automatically re-creates itself, so players can try new games over and over. Using the skill called Soul Capture, the male character can take magic and other skills away from the monsters, as well as weapons and shields to power up.
A Fairy Tale
Publisher: Lemon Games
Players: 1
ESRB Rating: E (Everyone) – Comic Mischief
Price: 500 Nintendo DSi Points
When a giant menace threatens the village, young faeries Delfbert, Wilf and Angelica set out on a fantastic journey to save their home. Join them on their whimsical quest through 100 puzzling levels, marked by stunning graphics and magical music that will fill you with wonder. Featuring an exciting new type of puzzle game play and a humorous, lighthearted storyline, A Fairy Tale is an unforgettable journey of enchantment.
Absolute Baseball
Publisher: Tasuke
Players: 1
ESRB Rating: E (Everyone)
Price: 500 Nintendo DSi Points
Become the manager of a baseball team and lead it to the championship. Make all the decisions for your team, from selecting the starting lineup and switching pitchers and runners to giving your players pitching, fielding and batting orders. Earn points as you play games throughout the season, and use them to increase your players' abilities. Build them into the team that will respond to your strategy and make it to the top. In addition to regular league games, there are interleague games, playoffs and the championship series.