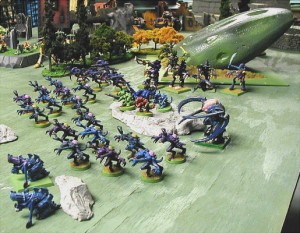 THQ and Games Workshop have announced today that they are renewing THQ's exclusive license to prepare video game adaptations of the popular Warhammer 40,000 tabletop war game.
The publisher has two Warhammer 40,000 games in development: PC/360/PS3 third person shooter Warhammer 40,000: Space Marine and MMORPG Warhammer 40,000: Dark Milennium Online. THQ President and Ceo Brian Farrell expressed his enthusiasm for both games, still scheduled to launch this year, saying, "our envisioning of the Warhammer 40,000 universe will continue to grow with top quality games across all platforms, including the upcoming launches of Warhammer 40,000: Space Marine and Warhammer 40,000: Dark Millennium Online."
The last big game to come out of this license, Warhammer 40,000: Dawn of War II, was a notable success among PC gamers, breathing a little extra life into the Real Time Strategy genre.
In other tabletop news, anyone wanna get in on a D&D campaign?