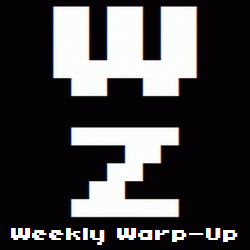 No, that's not a typo. Welcome to the Weekly Warp-Up, your weekly wrap-up of the biggest and the best articles posted at Warp Zoned this week…
Get Warp Zoned!
I hope you're having a good day so far on this fine Easter morning. But I'll bet it would be better after you check out our Mindjack contest and enter to win the Square Enix shooter. Now then, with the impending holiday, gamemakers kept their announcements pretty low key this week, but that didn't stop the rumor mill from churning out some really good stuff instead.
To start out the week, American McGee revealed that American McGee's Alice would be included with Alice: Madness Returns. EA confirmed this proclamation a few days later. Speaking of scary stuff, Capcom's Masachika Kawata started talking about Resident Evil 6 and pledged that it would be "totally different."
Kratos may be painting the town red (with blood!) soon enough as rumors point to a September 2012 release for God of War IV. And to finish up our theme, no matter what the rumors say, Freddy Krueger and Jason Voorhees aren't going to be added to Mortal Kombat anytime soon.
But frightening future games wasn't the only subject of rumors this week. Another Wii 2/Project Cafe rumor made the rounds, claiming that Rockstar was the first developer to be given a dev kit and that they plan to bring Grand Theft Auto V to the system. And it looks like Nintendo may have the next generation console space to themselves for a while as Kotaku revealed that they have multiple sources predicting the PS4 and Xbox 720 won't be ready until 2014… at the earliest.
In non-rumor news, we got a chance to talk with Kierin Chase, the Brand Manger for Dungeons & Dragons, on the future of the tabletop game, upcoming video game adaptations and our own fond memories of rolling the dice.
Hit the jump for the rest of the Weekly Warp-Up.
The Week in Reviews…
The Week in New Games…
Amazing Paperboy Delivers…
And Finally…
What would the royal wedding between Prince William and Kate Middleton look like if it were acted out by Sims? EA has the answer (hint: it involves a dancing queen).