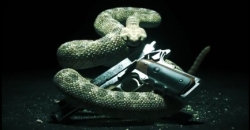 After releasing a teaser trailer this morning, Square Enix has revealed a little bit more about Hitman: Absolution this afternoon.
Scheduled for release in 2012 for the PC, PS3 and Xbox 360, Hitman: Absolution that developer IO Interactive is calling a "familiar and yet significantly different experience from other Hitman games." The game will be powered by the all-new Glacier 2 engine, which is an enhanced version of the company's proprietary engine last seen in Kane & Lynch 2: Dog Days. We've also learned a few storyline details:
Hitman: Absolution follows Agent 47, a cold-blooded assassin, who takes on his most dangerous contract to date. Betrayed by those he once trusted — and now hunted by the police — he suddenly finds himself at the center of a dark conspiracy and must embark on a personal journey through a corrupt and twisted world.
Hitman: Absolution will make its worldwide debut at this year's E3 Expo, which will be held from June 7-9.