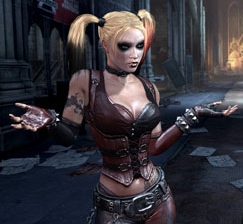 Bad news, Batfans.
Arleen Sorkin will not be voicing Harley Quinn in Batman: Arkham City. Sorkin, who was actually the inspiration for Quinn's apperance on "Batman: The Animated Series," has been replaced, for unspecified reasons, by prolific voice actress Tara Strong.
While there's definitely some disappointment in losing Sorkin, Strong has quite a history with the various Bat-cartoons as well:
She played Barbara Gordon (AKA Batgirl) on "Batman: The Animated Series";
She voiced The Huntress on "Batman: The Brave and the Bold";
She stepped into the shoes of Vicky Vale on "The Batman";
And she had a small part as a Shock Trooper from Apokolips in Superman/Batman: Apocalypse.
To further assuage fan's fears, the Batman: Arkham City Community Manager recently sat down with Strong to discuss her thoughts on Harley Quinn and the voiceover process.
And it sounds like the character is in good hands.