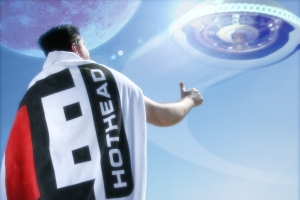 Don't panic! 42! Towels! There, now that we've got the Adams-isms out of the way…
Hothead Games (creators of the hilarious Penny Arcade Adventures) has used Towel Day, the annual celebration of Douglas Adams' writing, to announce a new strong>Hitchhiker's Guide to the Galaxy game. The absolutely insane press release didn't mention which platforms it would be available for, but Hothead tagged the release with the word "app," so expect an iPhone/iPad version at the very least.
"We're super excited to be involved with such a legendary creation as The Hitchhiker's Guide to the Galaxy. The quirky and hilarious universe that Douglas Adams created became an instant classic for so many. All the hoopiest froods here at Hothead jumped on the chance to work on the project," commented excitable Hothead human, Joel DeYoung.
And that's about all we know. Although more news will eventually trickle out onto the game's official website: TheNewHitchhikersGuide.com.