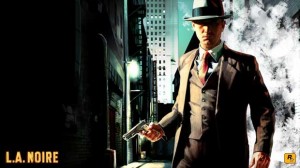 Rockstar Games formally announced their plans for L.A. Noire's DLC today, detailing information on new cases, collectibles, and challenges. All of the content will be available on both the PlayStation Network (whenever the Store returns) and Xbox LIVE. The cases are priced at $4.00 (PlayStation Network)/320 Microsoft Points (Xbox LIVE).
The four new standalone cases are:
The Naked City (Vice) – available today
A Slip of the Tongue (Traffic) – available today
Nicholson Electroplating (Arson) – coming 6/21/11
Reefer Madness (Vice) – coming 7/12/11
There's also The Badge Pursuit Challenge for $2.00/160 Microsoft Points and the Sharpshooter/ Broderick detective suits for $1.00/80 Microsoft Points.
A unique way to pay for all of this is to purchase the L.A. Noire Rockstar Pass, which costs $10.00/800 Microsoft Points and gives you access to all the DLC as it comes out. So the total without the pass is $16, saving you a big $6 – but the discount is only for a limited time, after which the pass will go up to $12.
Well, that's not confusing at all. In addition to all of the paid items, Rockstar Social Club members will be getting a freebie – the Chicago Lightning Detective Suit – and everyone will have access to the Chicago Piano machine gun for free. Hit the jump for the full release schedule.
Chicago Lightning Detective Suit (Social Club only) – May 17
L.A. Noire Rockstar Pass (limited-time discount price) – May 31
"The Naked City" DLC case – May 31
"A Slip of The Tongue" DLC case – May 31
Broderick Detective Suit and Gun – May 31
Sharpshooter Detective Suit and Gun – May 31
The Badge Pursuit Challenge – May 31
Chicago Piano Machine Gun (free community unlock) – May 31
L.A. Noire Rockstar Pass (standard price) – June 14
"Nicholson Electroplating Disaster" DLC case – June 21
"Reefer Madness" DLC case – July 12