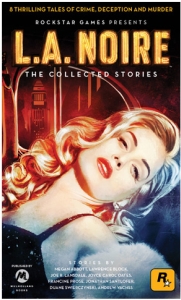 Rockstar will be expanding upon the noirish tales told in L.A. Noire with L.A. Noire: The Collected Stories, a short fiction collection from some of the biggest names in the mystery game. Published in conjunction with Mulholland Books, The Collected Stories will feature characters and cases from the game, but all of the "emotionally torn protagonists, depraved schemers and ill-fated victims" will be cast in a new light by the awesome Duane Swierczynski (read Severance Package right now, I demand it!), Megan Abbott, Lawrence Block, Joe Lansdale, Joyce Carol Oates, Francine Prose, Jonathan Santlofer and Andrew Vachss.
The first story available will be "The Girl" by Megan Abbott. The titular girl is June Ballard, one of the many characters from L.A. Noire. An excerpt of the story is available at the Rockstar Games website with the full-length tale coming soon.
Many of the stories will be released on Rockstar's website before the game's May 17th release. The Collected Stories will be available at eBook retailers everywhere on June 6th. A print copy doesn't appear to be in Rockstar's plans at this time, but it's seems wrong to read hardboiled fiction on a computer screen.
Yeah, like that's going to stop me.