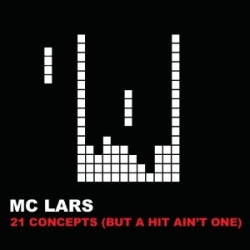 Nerdcore rapper extraordinaire, MC Lars, has released a new b-sides compilation today: 21 Concepts (But a Hit Ain't One). The album is available in trusty compact disc format as well as digitally at leading online retailers such as Amazon and iTunes.
Sadly the album doesn't contain the song titled "21 Concepts (But a Hit Ain't One)." That track, which features an awesome sample of the "Type A" music from the Game Boy version of Tetris (which was itself just a reworking of the Russian folk song "Korobeiniki"), can be found on MC Lars' first full-length disc, The Graduate. As you can tell, it was also the inspiration for the album's cover (which actually features the correct width of a Tetris column, impressive Lars!).
However, it does contain the song "Reaping Beauty," which was inspired by Platinum Games' Bayonetta. MC Lars (along with special guests Beefy, Random and Tina Root) rap about Bayonetta's killing skills and her resemblence to Tina Fey. Check out the full video for the song after the break.