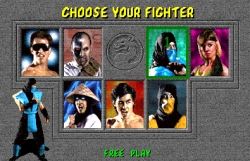 Has the new Mortal Kombat released you from its bloodstained grip yet? Are you ready for more battles against Shang Tsung, Shao Kahn and Goro? How about if they're fights from the franchise's "klassic" days?
If you said yes, then prepare to say "Toasty!" all over again as WB Games has announced they'll be bringing Mortal Kombat Arcade Kollection to the PlayStation Network and Xbox Live Arcade by the end of Summer. Developed by Other Ocean, the game will kollect the arcade editions of Mortal Kombat, Mortal Kombat II and Ultimate Mortal Kombat 3 into one download.
"We are very excited to finally have the first three Mortal Kombat games available in one download package for long-time and new fans to play," said Ed Boon, Creative Director, NetherRealm Studios. "With the release of our 2011 Mortal Kombat, and its return to 2D game play, players have been asking for these classic titles and we are happy to deliver them."
The Kollection will be available to download for $9.99 (or 40 quarters or 800 Microsoft Points). Or, if you'd prefer to get it for free, a download code will come bundled with PDP's new Mortal Kombat Klassic Fight Stick. The arcade-style stick will be sold in PS3 and Xbox 360 versions at GameStop (and gamestop.com) for a suggested price of $129.99. It's a "limited run," so pre-order it now if you want it.