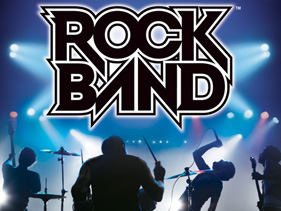 Long-time fans of the Rock Band franchise are well aware that the Foo Fighters are one of the most prolific bands in the game – there's well over twenty of their songs available in the Rock Band store. That number is set to increase this coming Tuesday, as the Foo Fighters are bringing four new tracks to Rock Band 3. That's not all, however, as hip-hop legends Run-DMC make their Rock Band debut. Previously, they were only available in 2008's Guitar Hero: Aerosmith. Anyway, here's what's on tap for Tuesday, May 10th:
Foo Fighters – "Long Road to Ruin"
Foo Fighters – "Rope" X
Foo Fighters – "Stacked Actors"
Foo Fighters – "Walk"
Lordi – "Hard Rock Hallelujah"
Run-DMC – "King of Rock"
"King of Rock" is an amazing pick, though hopefully this leads to their "Walk This Way" collaboration with Aerosmith. Otherwise, my only disappointment is the inclusion of just one track from the great new Foo Fighters album "Wasting Light" – hopefully more will appear in the future… like, you know, the entire album. In addition to the all-new tracks, there's two previously available Foo Fighters songs being enhanced for Pro Guitar:
• Foo Fighters – "Monkey Wrench"
• Foo Fighters – "The Pretender"
As always, each song will retail for 160 Microsoft Points, 200 Wii Points, or $1.99 on PlayStation Network… though as I said last week, the availability on PS3 depends on whenever PSN is up and running again. The two "legacy" updates for the older Foo Fighters tracks will set you back half the cost of a full song, as will the Pro Guitar upgrade for "Rope."
Tune in next week for another run down of Rock Band 3 goodness!